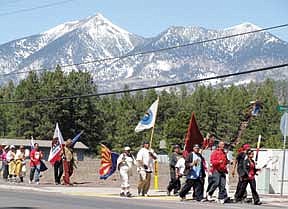 Longest Walk 2 participants walk toward Flagstaff along Route 180. Upon reaching Flagstaff they had walked 980 miles in 39 days.
Stories this photo appears in: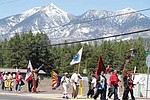 Far ahead of a crowd of a few dozen Long Walkers, a Japanese man waved a safety flag. He wanted to talk, he wanted to be heard, but a language barrier allowed him only to say, "All life is sacred." He had been marching the southern route - there is also a northern route - with comrades since Alcatraz; all bound for Washington, D.C.
By By Samuel Stoker
March 26, 2008