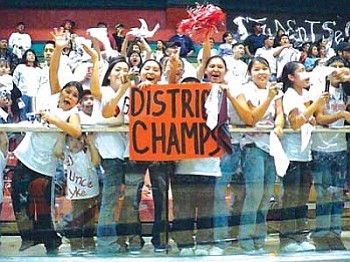 Shiprock Chieftain fans cheer for their winning team. The Chieftains will go to the New Mexico state playoffs to face Artesia (Photo by Anton Wero/NHO).
Stories this photo appears in:

Chieftains win first-ever 1-4A district title
SHIPROCK, N.M. - Just when you though it was all over, guess what? Same game, same fans...just a different state. About 4,500 fans amassed at the Shiprock "Pit" for this much-anticipated New Mexico district tournament. Due to the large turnout, many fans were turned away an hour before the 7 p.m. start. Those who were fortunate enough to get in witnessed school history as the Shiprock Chieftains won their first-ever New Mexico District 1 AAAA title over the Piedra Vista Panthers of Farmington with a final score of 55-54.