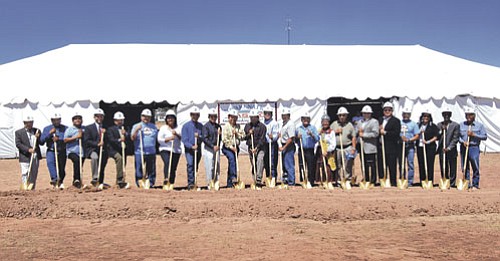 Courtesy photo
A number of Navajo Nation council delegates and dignitaries, including President Joe Shirley Jr., Vice President Ben Shelly and Miss Navajo Jonathea Tso, attended groundbreaking ceremonies June 16 for the Navajo Nation's new casino near Church Rock, N.M.
Stories this photo appears in:

Groundbreaking ceremony celebrates historical moment in the Navajo Nation's history
CHURCH ROCK, N.M. - It was a moment many have waited years for; a vision of economic opportunity they hoped would come to fruition. On Monday, June 16, that dream became a reality. More than 200 guests watched the Navajo Nation Gaming Enterprise (NNGE) officially break ground on the very first casino on Navajo land.