Photo by S.J. Wilson/NHO
A family affair — Gerald Lomatewaima (at far left) joins the Darden family after the 25th running of NACA's Sacred Mountain Prayer Run. He is with (from left to right) Steve Darden, Krista Monaghan, Kyle Darden, Rose Tohe, Kobe Darden and Seth Darden.
Stories this photo appears in: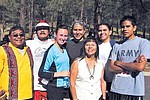 FLAGSTAFF, Ariz.-Runners from across Arizona and far beyond have their own reasons for attending the Native Americans for Community Action (NACA) Sacred Mountain Prayer Run. For the past 25 years, this 10k, 5k and 2k Fun Run has been a prayer for the Sacred Peaks. But not all are aware of the history and intent of the event. Vicky Miller, who works at the Flagstaff Bone and Joint Center, saw a flier at work and told her nephew Matt about it.