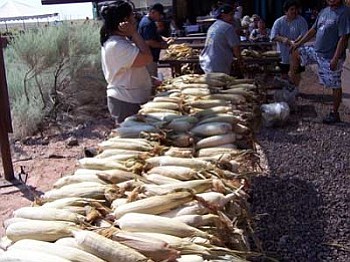 Photo courtesy of Arizona State Parks
Visitors and participants of the 2007 Suvoyuki Day are invited to partake in a special treat following the morning run— traditional sweet roasted corn.
Stories this photo appears in:
WINSLOW, Ariz.- "Suvoyuki" translated in the Hopi language means to accomplish work through a joint effort. Suvoyuki Day is an open house day at Homolovi Ruins State Park that celebrates the partners who have collaborated to protect and save Homolovi area archaeological and cultural sites from destruction.