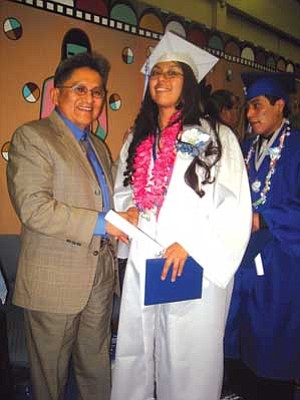 Hopi Tribal Chairman Ben Nuvamsa poses with Hopi High radio student Jackie David (Photo by Stan Bindell/NHO).
Stories this photo appears in:

POLACCA, Ariz. - Graduation is not a reason for losing touch with your classmates. That is the message that the graduating class heard from Hopi High Valedictorian Briann "Boo Boo" Laban during Hopi High graduation ceremonies held May 23 at Hopi High School. Laban told her classmates that they are just a telephone call or a My Space away from getting in touch with each other. "Don't shut each other out. We're going out into a harsher world and we need each other. Try new things, never give up," she said.