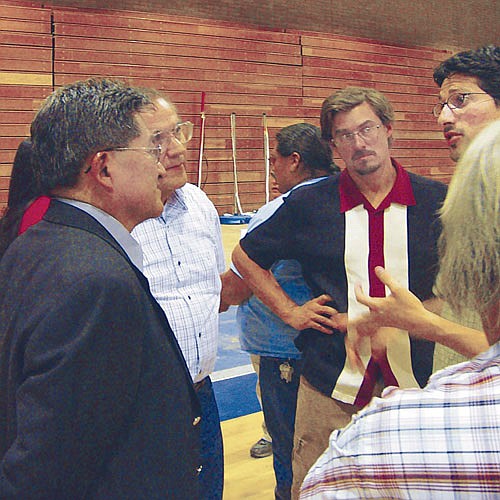 Photo by S.J. Wilson/NHO
From left: Hopi Tribal Chairman Ben Nuvamsa, Al Quouawayma, Andy Bessler, Tim Grabiel (attorney with the NRDC) and Jerry Honawa (foreground) discuss the potential for an extension on the comment period for the Black Mesa DEIS.
Stories this photo appears in: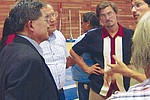 KYKOTSMOVI, Ariz. - When one reads the Black Mesa Project Draft Environmental Impact Study (EIS), it appears that the Hopi Tribe is a cooperating agency in the process-something that is just plain wrong, according to Vernon Masayesva of the Hopi Tribe. "The Office of Surface Mining wants you to know that the Hopi Tribe was involved in creating this document," Masayesva said, as fellow tribal member Jerry Honawa hoisted the heavy bound document ...
By S.J. Wilson
July 14, 2008