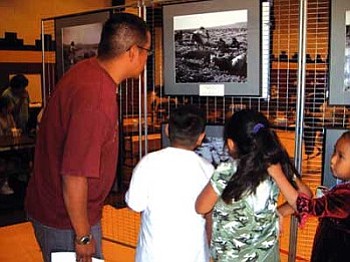 Photo courtesy of the Hopi Foundation
A teacher from Hopi Day School views photographs with a couple of summer school students.
Stories this photo appears in:

KYKOTSMOVI, ARIZ. - This year marks the third year The Natwani Coalition, a program of The Hopi Foundation, brought the 2008 Hopi Agricultural and Food Symposium. In the Hopi language the event is known as "Natwani Hopiit qatsimkiwa'at." The word "Natwani," literally means produce or vegetables and refers to the process and ritual necessary for the rejuvenation of all life. Traditionally, it is the intact web of obligation and activity involved in the planting, harvesting, processing, hunting and gathering of food.