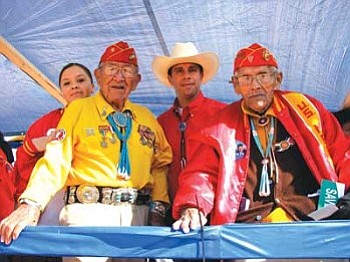 Arizona Congressional candidate Howard Shanker poses with two Navajo Code Talkers (Courtesy photo).
Stories this photo appears in:

Two additional endorsements from Navajo Agencies announced
FLAGSTAFF - The candidates for Congressional District 1 are vying for support from the Navajo Nation and other tribes in the District currently represented by Republican Rick Renzi. Following a presentation to the Chinle Agency of the Navajo Nation, a resolution of support for Democratic Candidate Howard Shanker was passed. At the end of December 2007, Shanker received a similar endorsement from the Western Navajo Agency.