A virtual ocean of floodwater stands just yards from a home site at an unidentified location in the Bird Springs Chapter. Many chapters in northern Arizona — including those in Navajo County — have been hit hard by recent heavy snowstorms and the resulting snow melt caused by warmer temperatures (Photo by Lt. Emerson Lee, NPD).
Stories this photo appears in: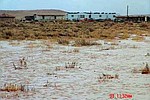 HOLBROOK - An afternoon that was intended to provide county leaders with an assessment of road conditions in northern Navajo County turned into a series of rescues for Supervisor Percy Deal, County Manager Jimmy Jayne, Public Works Director Dusty Parsons and other staff. The trip north was scheduled last Wednesday, Feb. 13 at the request of Deal, whose district has been inundated with rain and snow for the last several weeks, leaving dozens of roads impassable and stranding hundreds of families. The poor road conditions prompted the Board of Supervisors to declare a state of emergency earlier this month.