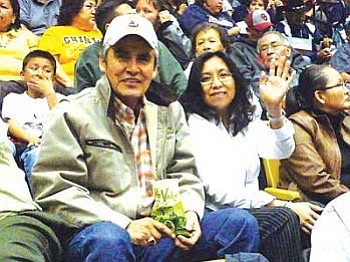 Navajo Nation President Joe Shirley Jr. and First Lady Vikki Shirley were among the nearly 7,500 people in attendance to witness the Arizona 3A North Region championships held at the Wildcat Den in Chinle on Feb. 8 (Photo by Anton Wero/NHO).
Stories this photo appears in:

CHINLE - The Window Rock Lady Scouts won their fourth straight game with a convincing win over the Arizona 3A Region Number 2 seed, the Winslow Lady Bulldogs with a score of 69-52. In a game contested before a sell out crowd of nearly 7,500 fans, the key to the Scout win was, "[Be] patient, calm, and under control, and [don't let] the crowd get into your head;" words uttered by Adrian Pete, 3A Girls North Region Coach of the Year.