Floodwaters flow along a road at an unidentified location within the Bird Springs Chapter last week. Many chapters in northern Arizona and New Mexico have been hit hard by recent heavy snowstorms (Photo by Lt. Emerson Lee, NPD).
Stories this photo appears in: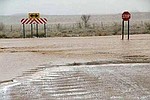 EOC rescuers successful in reaching those with critical health, medical needs WINDOW ROCK - The Emergency Operation Center's successes last week included the rescue of an elderly dialysis patient in Apache County who was pre-comatose when emergency personnel reached him. Another Apache County rescue involved a female whose husband walked eight miles to the Chapter house and reported that she needed medical assistance.