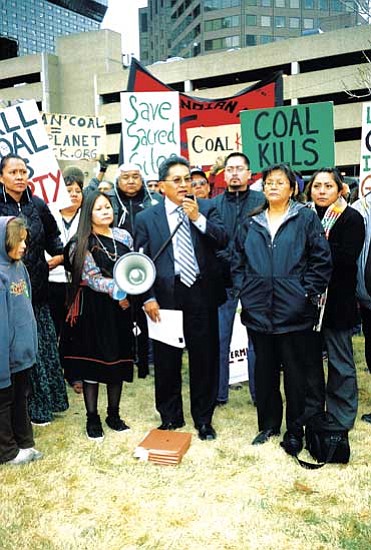 Photo by Esther Honyestewa
Hopi Tribal Chairman Ben Nuvamsa speaks to the crowd regarding the Black Mesa Project Environmental Impact Statement (EIS).
Stories this photo appears in:

DENVER, Colo. - The Black Mesa Water Coalition under the leadership of Wahleah Johns, Enei Begay, Lillian Hill, Kelvin Long, Gordon Isaac and other concerned members of the Navajo and Hopi tribes traveled to Denver Dec. 8 to meet and talk with officials from the Office of Surface Mining (OSM). While the meeting was in progress, approximately 100 Navajos and Hopis stood outside in the cold Denver air to protest this latest action by OSM.