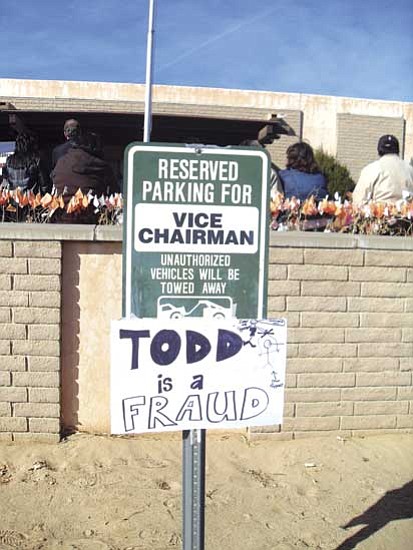 Photo by Rosanda Suetopka Thayer/NHO
Various signs expressing the general displeasure of the state of Hopi political affairs were mounted in various spots in front of the Hopi tribal building.
Stories this photo appears in:

Peabody lease deadline also weighs heavy on Hopi agenda
KYKOTSMOVI, Ariz. - Hopi and Tewa community members started gathering near the Hopi Tribal complex as early as 7:30 a.m. on Dec. 1 to be able to go into the Hopi Tribal Chambers for the last quarter council session of the year. The session was scheduled to start at 9 a.m. By 11:30 a.m., the crowd count in front of the tribal headquarters was at 113 and by 1:30 p.m. that afternoon, there were 133 individuals.