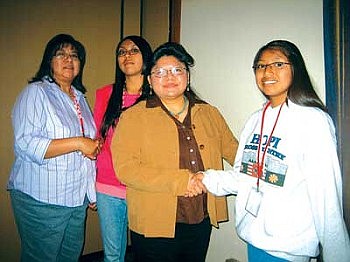 KUYI Station Manager Kathy Sahmie shakes with Jackie David and Hopi Foundation Program Manager Monica Nuvamsa welcomes Joelle Mansfield (Photo by Stan Bindell/NHO).
Stories this photo appears in:
ATLANTA, Ga. - Seven Hopi High radio students were able to attend the National Federation of Community Broadcasters Conference here March 25-29 because of donations from those in the field. Jackie David and Joelle Mansfield were funded by a donation by the Hopi Foundation, the policy arm of KUYI, also known as the Hopi community radio station.
By Stan Bindell
April 15, 2008