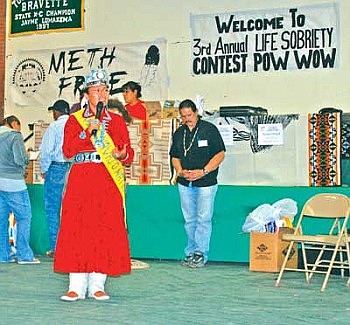 Miss Navajo Nation Jonathea D. Tso was one of the keynote speakers at the Third Annual LIFE Sobriety Powwow held in Tuba City on March 28-29. Tso spoke on the importance of sobriety and about the dangers of underage drinking and methamphetamine abuse. She also focused on parent responsibility and emphasized the essential and vital importance of traditional and cultural teachings to our children and youth. Standing to her left is Steve Darden of Flagstaff, who was the emcee for the powwow (Photo by Gary Davis).
Stories this photo appears in: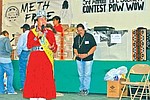 TUBA CITY - The Third Annual LIFE Sobriety Contest Powwow was held March 28-29 at the Tuba City Jr. High School. This marked the first year for a contest powwow, which was sponsored by the Department of Behavioral Health Services (DBHS). The theme was "Honoring the People." The annual community event drew approximately 2,500 people for both days. The mission of the Sobriety Powwow is to preserve and provide a healthy, sober and safe surrounding for the community ...
By By Gary Davis
April 15, 2008