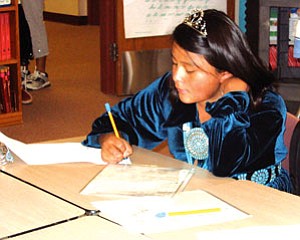 Dzil Libei Elementary students participate in a weekly cultural day which celebrates and emphasizes the Native American heritage and customs of its student population. Beautifully dressed in blue is Deidre Robbins. Bighorse is in Ms. Constance Benally's sixth grade class.
Stories this photo appears in:
Beauty, culture, elegance go hand in hand with disciplined academics
CAMERON-Webster's dictionary defines culture and tradition as "the totality of socially transmitted behavior, patterns, arts, beliefs, institutions and all other products of human work and thought of a population or community at a given time. A style of social and artistic expression defined to a class or society. The act of developing social, moral, and intellectual faculties through education. Customs and usages transmitted from one generation to another and viewed as a coherent body of precedents influencing the present."