A recent photo of Mia Henderson in traditional Diné dress. During the early morning hours of Sept. 5, Henderson, a 2007 graduate of Tuba City High School, Manuelito scholarship recipient and University of Arizona freshman, was fatally stabbed by her roommate, Galreka Harrison, who Henderson accused of allegedly stealing a number of personal items (Photo by Rosanda Suetopka Thayer).
Stories this photo appears in: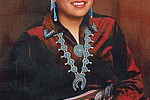 TUBA CITY-She was known locally and in Mungapi-Hopi villages by several affectionately given monikers: Princess Mia, Skipper, #15 and Mighty Mia. Mia Janelle Henderson, a Navajo Nation tribal member, Tuba City High graduate and freshman at the University of Arizona (UA), was fatally wounded in a pre-dawn struggle with her roommate, Galereka Harrison of Many Farms, also a Navajo Nation member and a freshman at UA at their Graham Greenlee dorm residence hall.
By Rosanda Suetopka Thayer
September 11, 2007