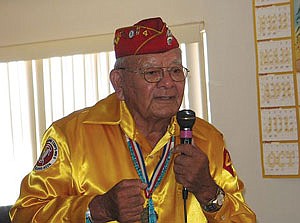 Code Talker Keith Little remembers Aug. 14, 1945—the day Japan surrendered unconditionally to Allied forces. In 1982, this day was designated National Navajo Code Talkers Day by the U.S. government (Photo by Gary Elthie/Observer).
Stories this photo appears in: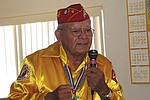 TONALEA-As the sun rose so began the honor devoted to those of the Tonalea community who led and contributed to the battles of the U.S. militaries. "We know it has been recognized all over the world, and we wanted to do it locally," Tonalea Chapter president Steven Arizana explained. "We wanted to recognize the Code Talkers at the Chapter level." The Western Navajo Code Talkers Appreciation Day honored not only the WWII Code Talkers, but Tonalea veterans of all wars.
By Rebecca Schubert
September 11, 2007