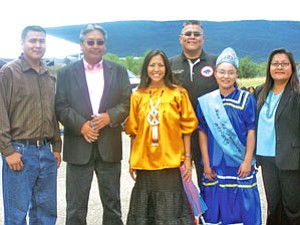 Mary Kim Titla (center in yellow), several members of the San Carlos Tribal Council and Miss Mt. Turnbull 2007-2008.
Stories this photo appears in:

GLOBE-Several tribal groups are giving their support for Mary Kim Titla in her campaign to become District One's Representative in the U. S. Congress. The first step, however, is winning the Democratic nomination. Recent endorsements have come from the Tonto Apache Tribe, the Western Navajo Agency of the Navajo Nation Council, White Mountain Apache Tribe, and Titla's own San Carlos Apache Tribe.