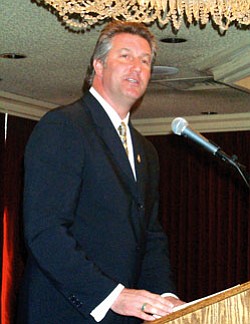 Arizona District 1 Congressman Rick Renzi (NHO file photo).
Stories this photo appears in:
Environmentalists looking at U.S. Rep. Rick Renzi's record may be confused as some national environmental groups give him a terrible rating while some local environmental groups say they are impressed with his protection of local sites. Tiernan Sittenfeld, legislative director for the League of Conservation Voters in Washington, D.C., said Renzi has a terrible rating on national environmental issues. The LCV ranks members of Congress on environmental issues. Renzi has a 7 percent score since entering Congress and 3 percent for last year's session.