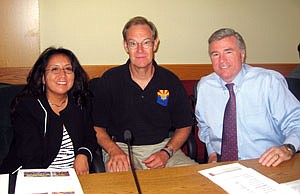 Arizona Meth Project co-chairs are Navajo Nation First Lady Vikki Shirley, Arizona Attorney General Terry Goddard and Maricopa County Supervisor Don Stapley (Photo by George Hardeen/OPVP).

Stories this photo appears in:
WINDOW ROCK-Navajo Nation First Lady Vikki Shirley reported to the Arizona Meth Project that 635 Navajo youngsters have pledged never to use methamphetamine-not even one time. At the Arizona Meth Project Advisory Board meeting Aug. 14, which Shirley co-chairs, she reported that Navajo youth were eager to take part in the Arizona-wide Not Even Once community outreach pledge drive.
By George Hardeen
September 5, 2007