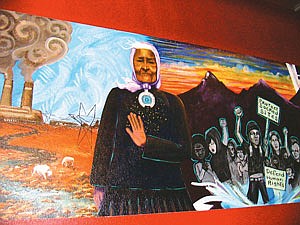 Part of the beautiful mural designed and painted by community artists including Cy Wagoner, Jake Fagura, Ave "the Peaks" Chee, Clayson Benally and "the Mural Mice" of Prescott (Photo by S.J. Wilson/NHO).
Stories this photo appears in: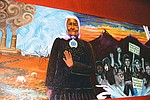 FLAGSTAFF-Visitors to the Pine Grove Shopping Center on Fourth Street cannot have missed the buzz of activity in one small retail space between the popular Hunan East restaurant and the Hancock Fabric store. A small army of teens and young adults volunteered hundreds of manpower hours to convert 1926 N. Fourth Street #7B into the Indigenous Youth Media Arts Center and Infoshop Bookstore.
By S.J. Wilson
October 30, 2007