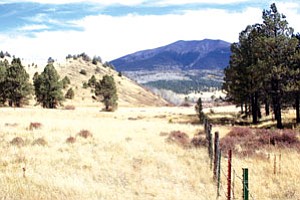 The San Francisco Peaks seen from the northwest near Hart Prairie. The Ninth Circuit Court of Appeals last week granted a re-hearing of the controversial case in which a number of Native American tribes in New Mexico and Arizona successfully sued the U.S. Forest Service and Arizona Snowbowl halting proposed plans to use reclaimed wastewater to make artificial snow on the peaks, which are held sacred by more than 13 tribes (Photo by Rebecca Schubert/NHO).
Stories this photo appears in:

FLAGSTAFF-Robert Tohe was at his desk Oct. 17 when he opened the e-mail revealing that the battle over the San Francisco Peaks is not over. As the Environmental Justice Coordinator for the Sierra Club for the Flagstaff Environmental Justice Office, Tohe, like Native American rights activists throughout the Southwest-and indeed the world-was surprised when the 9th Circuit Court granted a rehearing of its ruling against the use of reclaimed wastewater on the San Francisco Peaks.