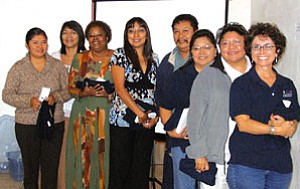 Pictured left to right: new and renewed HEEF board members, Sahmie Wytewa, Dr. Sheilah Nicholas, Cynthia Dagnal-Myron, Monica Kahe, Marvin Yoyokie, Catherine Talakte, Monica Nuvamsa and Janet Regner (Courtesy photo).
Stories this photo appears in:

HOTEVILLA-On Oct. 5 during their annual meeting held at the Hotevilla Youth/Elderly Center, the Hopi Education Endowment Fund (HEEF) discussed various areas of business, which included the past year's fundraising activities, committee reports and funding to various programs. However, the highlight of the day was the welcoming of five new members to the HEEF board, one new member to the HEEF Executive Committee and the renewals of eight previous members.