The sacred San Francisco Peaks blanketed in pure white snow following a snowstorm (Photo by Jeff Brostrom/NHO file photo).
Stories this photo appears in: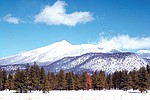 FLAGSTAFF - The legal battle to determine the fate of a Northern Arizona mountain held holy by more than thirteen Native American nations will be heard in a Pasadena, Calif. courtroom Dec. 11. The 9th Circuit Court of Appeals granted the U.S. Forest Service and an Arizona ski resort the opportunity to challenge a previous decision by the court Oct. 17. The initial decision blocked the ski area from expanding and making fake snow from treated sewage effluent on the sacred San Francisco Peaks.
By Submitted by Save the Peaks Coalition
November 27, 2007