Hopi mediators conduct an exercise called "babysteps" where they learn that mediations require step-by-step progress and patience, and that they can't all be resolved right away in one step. The mediation workshop took place recently and graduated nine individuals (Photo by Ethan N. Elkind).
Stories this photo appears in: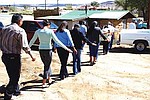 The Nakwatsvewat Institute has its first class of graduates who are now certified Hopi mediators. Nine Hopis from various villages completed the 40-hour long mediation training program. Their next step is to be observed in a simulated mediation session and then they can start settling various disputes within their own villages and across the Hopi reservation.
By By Patty Talahongva
November 21, 2007