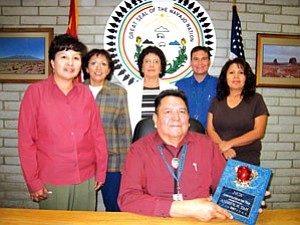 Standing from left: Rena Dodson, Human Resource director; Marie Morales, Federal Project director; Stella Claw, Navajo Language teacher; Dwight Witherspoon, Dean of Students; Trevia Knight business manager and Andrew Tah superintendent (seated; Photo by Josepine Billy).
Stories this photo appears in:

It is with a deep sense of gratitude and honor that Greyhills Academy High School nominate its superintendent, Andrew M. Tah for the Department of Diné Education North Central Association's Administrator of the Year. Tah's many years of educational administrative services in Navajo Education truly exemplifies a competent leader who is visionary, diplomatic and trustworthy.