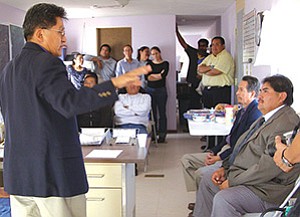 Ben Nuvamsa addresses Hopi Vice Chairman Todd Honyaoma Sr. and members of the Hopi Tribal Council during an organizational planning meeting held prior to the elections. Before running for chairman, Nuvamsa was hired by the tribe as a consultant to provide insight on effective management and communication (Photo courtesy of Ben Nuvamsa).
Stories this photo appears in:
KYKOTSMOVI-As the case of Ben Nuvamsa's chairmanship twists and turns, Nuvamsa is digging into his elected position and taking advantage of each and every moment. "We're trying to get caught up and taking first things first by establishing our administrative structure and clarifying protocol," he said.