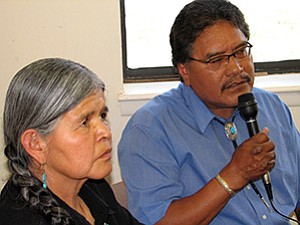 Jeanne Whitehorse (left) and Kee Long. Whitehorse manages the New Mexico Tribal Library Program in Crownpoint, N.M. and Long is the Navajo Nation's Broadcast Services Manager (Photo by Colleen Keane).
Stories this photo appears in:

PINEHILL, N.M.-Something big was happening in the small Ramah Navajo community in Pinehill, N.M. on the morning of Friday, May 18. A stream of cars and trucks began arriving. Many of them had been on the road for several hours. They were not the usual visitors to Pinehill; they were engineers, scientists, educators, librarians, computer scientists and artists...so why were all these people in Pinehill?