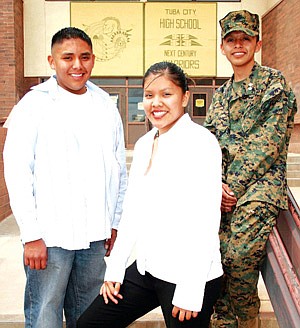 Tuba City High School's 2007 Gates Millennium scholars (L to R): Jordan Begay, LeeAnn DeJolie, and Kevin Attikai. Only 1,000 students from throughout the United States are awarded the Bill and Melinda Gates Scholarship each year. This year Tuba City High School yielded three winners of this highly competitive scholarship award (Photo by Byron Poocha/TCUSD)
Stories this photo appears in: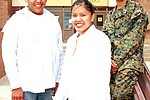 TUBA CITY-Only 1,000 students in the entire United States are selected each year for the honor of becoming a Gates Millenium scholar. Even fewer are selected from Native reservation schools. With 24 tribes in the state of Arizona, fewer than that make the final cut. This year, three of Tuba City High School's finest made it...
By Rosanda Suetopka Thayer
May 15, 2007