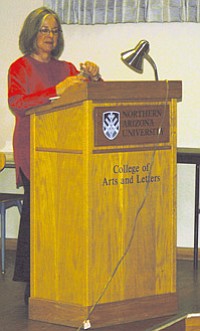 Linda Hogan is one of three candidates being considered for NAU's McAllister Endowed Chair (Photo by Rebecca Schubert).
Stories this photo appears in:

FLAGSTAFF-The McAllister Chair Search Committee at Northern Arizona University recently narrowed its search to three candidates to fill the lead position in its Program in Community, Culture and Environment. This program partners the arts at NAU with regional communities and encourages multidisciplinary learning and collaboration between academia and citizens outside the university setting.