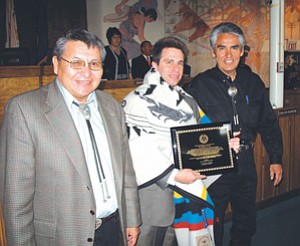 Howard Shanker (center) was honored by the Navajo Nation April 17. During his State of the Nation Address to the Navajo Nation Council, Navajo Nation President Joe Shirley Jr. (right) presented Shanker with a plaque and a special Pendleton robe bearing the Navajo Nation seal. Shanker, who will run for Congress in 2008 against incumbent Rick Renzi in Arizona Congressional District 1, was recognized for his work to protect the sacred San Francisco Peaks from desecration by the federal government and a privately run ski area. Also pictured is Navajo Vice President Ben Shelly (Photo by George Hardeen/NN-OPVP).
Stories this photo appears in:
FLAGSTAFF-Democrat Howard M. Shanker officially declared his candidacy for the House of Representatives for Arizona's Congressional District One in Tuba City last week. Shanker, a long-time resident of Arizona, who makes his home in Flagstaff, is one of the founding members of The Shanker Law Firm that has offices both in Flagstaff and Tempe. Shanker filed his Statement of Candidacy with the Federal Election Committee (FEC) on April 24.