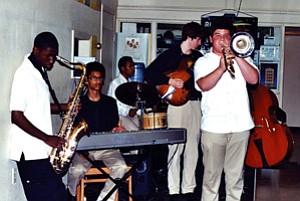 New Orleans Kreative Arts Band played the jazzy tunes during Hopi High School's visit to Louisiana in April (Photo by Stan Bindell/Observer).
Stories this photo appears in:

NEW ORLEANS, La.-Hopi High radio students Traci Talahytewa and Felix Poleheptewa gave brief public speeches at Cafe Reconcile where youth gathered to give their view of Hurricane Katrina. More than 100 people gathered at Cafe Reconcile to hear Youth Radio's Generation Katrina, a CD compilation about how the youth were impacted by Hurricane Katrina.