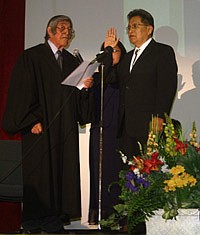 New Hopi Chairman Ben Nuvamsa stands with his hand raised as Emory Sekaquaptewa conducts a benediction ceremony at the Hopi Veterans Memorial Center held Wednesday, March 21. Nuvamsa will serve out the remainder of former Chairman Ivan Sydney's term (Photo by Rebecca Schubert/Observer).
Stories this photo appears in: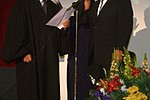 KYKOTSMOVI-From throughout the Southwest leaders, individuals, citizens, family and friends gathered to witness Ben Nuvamsa's inauguration as the new Hopi Chairman. Held at the Hopi Veteran's Memorial Center on March 21, hundreds of supporters turned out for the inauguration ceremony. Presenting the opening blessing was former Hopi Chairman Ferrell Secakaku who encouraged unity and peace in the Hopi community.
By Rebecca Schubert
March 27, 2007