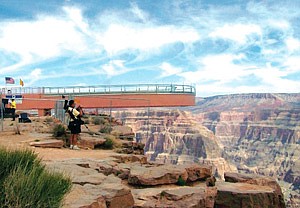 An unidentified photographer cautiously takes in the breathtaking view of the Grand Canyon from the West Rim as the newly christened skywalk hangs over the majestic backdrop. The Hualapai Tribe hopes that the skywalk will bring in much-needed tourism revenue (Photo by Jackie Brown).
Stories this photo appears in:
GRAND CANYON, West Rim-It can withstand 100 mph winds, earthquakes and the weight of more than 800 adults. This week will begin the test of whether or not the Grand Canyon Skywalk can buoy the fortunes of the struggling Hualapai tribe, who number approximately 2,000. A ceremonial "first walk" event held, Wednesday, March 20 drew more than 1,000 members of the media and VIPs from throughout the world.
By By Jackie Brown
March 27, 2007