Old friends gather to celebrate screening of "Dance of the Warrior Mouse." They are (top, left to right) Lillian Hill, Andrea Hartley, Marilyn Tewa, Phyllis Hogan, filmmaker Susan Green (bottom, left to right) and Andy Bessler with daughter Ruby and son Noah (Photo by S.J. Wilson/Observer).
Stories this photo appears in: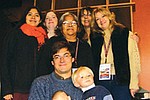 SEDONA-"Dance of the Warrior Mouse," a short documentary by Flagstaff filmmaker Susan Green, honors the Navajo and Hopi environmentalists who faced down the world's biggest government and the biggest mining company and won. This is a victory that Green compares to the Hopi story of the Warrior Mouse who saved the village chickens from a marauding chicken hawk. The film was featured at Sedona's 13th Annual International Film Festival and Workshop on Feb. 28.
By S.J. Wilson
March 13, 2007