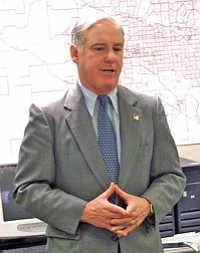 Vermont Governor and Democratic National Committee Chairman, Howard Dean (Photo courtesy of AZ Democratic Party).
Stories this photo appears in:

PHOENIX-Vermont Governor Howard Dean, current Chairman of the Democratic National Committee paid a visit to Phoenix on Friday, March 2 to meet with prominent tribal leaders from throughout the region to address various needs in the areas of education, healthcare and tribal sovereignty. One of Dean's primary goals during his visit was to encourage tribal representatives to return to their communities to promote more political involvement and participation from their own community members.