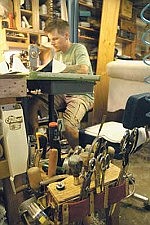 (photo by John Bianchini)
In his small backyard shop, Wes Breitenback, owner of Crown Upholstery, works on chairs for a customer in Grand Canyon National Park.
Stories this photo appears in: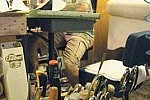 On any given night, a restaurant closes in Flagstaff; whereby, Wes Breitenbach, a Winslow resident and owner of Crown Upholstery, has his window of opportunity and drives 52-miles and back to fix upholstery where there is enough commercial activity to keep him working to support his family. His hours are irregular and many times, late at night. The city of Winslow Planning and Zoning Commission did not approve Breitenbach's request to release him from a condition in his Conditional Use Permit. Now he cannot work on Sundays, early mornings or at night for a business he owns or else he will violate his CUP and could be in danger of losing his business.