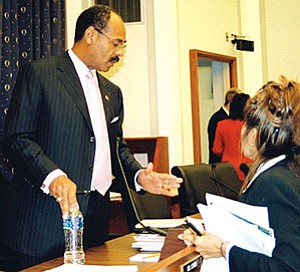 Aneva Yazzie (right) speaks with Congressman Emmanuel Cleaver II. She invited members of Congress to tour the Navajo FlexCrete Building Systems Inc. plant in Page and visit Navajo FlexCrete homes in Arizona, New Mexico and Utah. Congressman Cleaver encouraged the implementation of green building practices as all of Europe is progressing toward green building in construction (Photo by Rick Abasta).
Stories this photo appears in:
WASHINGTON, D.C.-On June 5, the U.S. House of Representatives Committee on Financial Services held a hearing on the "Re-authorization of the Native American Housing Assistance and Self Determination Act" (NAHASDA). NAHASDA was established in 1996, allowing tribes flexibility and room to establish housing services to benefit their tribes through execution of the Indian Housing Block Grant.