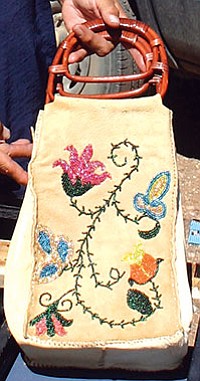 Beaded purse by Kim Lohnes (Photo by Rebecca Schubert/Observer).
Stories this photo appears in:

Local Native Kim Lohnes to be among featured diverse talents
FLAGSTAFF-For many reasons, much of northern Arizona intrigues and captivates its residents as well as visitors. The landscape, the air, the open-minded communities and the history are some of the benefits, but for many individuals the most valuable characteristics are the Native peoples-their knowledge, perspectives and life-ways.