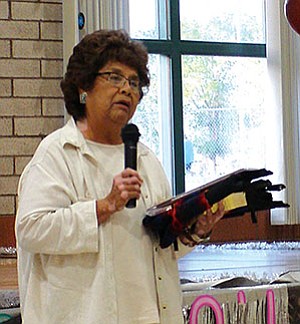 Lolita Tsinnie, a 45-year employee with the Tuba City Unified School District (TCUSD), speaks to fellow co-workers and other honorees at a TCUSD employee recognition dinner held May 15 (Photo by Rosanda Suetopka Thayer).

Stories this photo appears in:

At 45 years and counting, Lolita Tsinnie earns top honors
TUBA CITY-Lolita Tsinnie has seen many of the current Tuba City Unified School District (TCUSD) administrators through primary school, grade school, high school and even college graduation. She mentored many of the TC District teachers in attendance at the staff recognition dinner that night, but the most inspiring of her life talents is not just her longevity, but her continued optimism, hopefulness and sheer joyfulness in nurturing students.