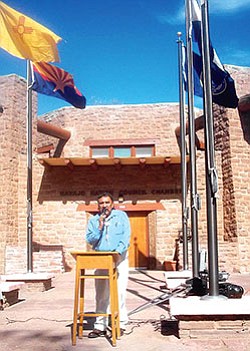 Honorable Lawrence T. Morgan welcomes the Navajo Nation Council horse riders to the 2007 Summer Session in front of the Navajo Nation Council Chambers in Window Rock on July 16 (Photo courtesy of Navajo Nation Speaker's Office).
Stories this photo appears in:

WINDOW ROCK-Honorable Speaker Lawrence T. Morgan (Iyanbito/Pinedale) delivered the third quarterly report message to the 21st Navajo Nation Council during the first day of the summer session on July 16. "We have a full agenda this summer session, and I look forward to the deliberations that will occur once again within these council walls," Speaker Morgan said. "Within these past few months, it has been immensely active for the Council's standing committees and the entire Legislative Branch."