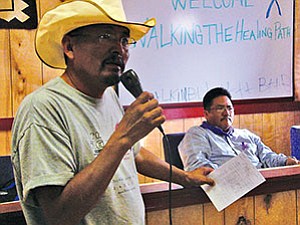 Council Delegate Leonard Chee (with microphone) of the Leupp/Birdsprings/Tolani Lake Chapters speaks to the domestic violence situation happening in Leupp. Thomas Walker Jr. (at right) also a Council Delegate for the three chapters, listens in. Walker spoke earlier of the loss of a sister to domestic violence (Photo by S.J. Wilson/Observer).

Stories this photo appears in:

LEUPP-In the early afternoon of July 18, a Leupp resident allegedly shot his wife, then barricaded himself in his house for hours. As the scenario unfolded, John Tsosie, his father, Ernie Tsosie Jr. and their companions Gerald Milford and Leanne Guy were walking into the community. The four have been walking across the Navajo Nation with a message against domestic violence in a walk they call "Walking the Healing Path."