Artistic rendering by Sean Dover of what he claimed to have saw flying above Leupp, Ariz. on his way back home from school in Flagstaff.
Stories this photo appears in: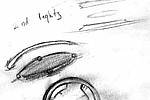 LEUPP. Ariz. ‹ The possibility of life beyond earth is indubitable. So, we all wait on earth until that moment when something will attempt to make contact or visit this planet.
By By Rebecca Schubert
January 31, 2007