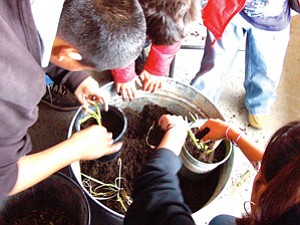 Students from the STAR School prepare plants to be given to elders at Infinia Nursing Home (Photo by S.J. Wilson/Observer).
Stories this photo appears in: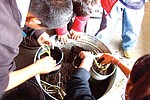 LEUPP-Crystal Drake is 13 years old. She is already in her fifth year of service learning in the Leupp community. This is her second year of being a project leader. Her part of the multi-fold Elder Help Service program is leading fellow students in cutting, chopping and delivering firewood to Navajo elderly. She is one of sixteen student leaders from grades fifth through the eighth at the STAR School, located approximately 28 miles northeast of Flagstaff near the reservation community of Leupp.
By S.J. Wilson
January 23, 2007