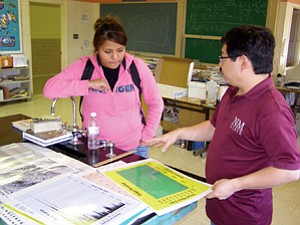 McKinley County Extension 4-H agent Richard Ng discusses the levels of radiation found at the Church Rock uranium spill site with Fort Wingate student Renee Cleveland. Cleveland, who participated in gathering the data while mapping the area, plans to use the information as a science project (Photo by Jane Moorman).
Stories this photo appears in:
GALLUP, N.M.-How much radioactive contamination remains in the soil 27 years after a spill of tailings from a uranium mill's disposal pond? That was the question Fort Wingate High School students sought to answer when they began a mapping project last month.Through a program coordinated by New Mexico State University's Cooperative Extension Service office in Gallup, students used Geiger counters, Global Positioning System (GPS) receivers and Geographic Information Systems (GIS) software to map the area of McKinley County that was contaminated when a uranium mill's disposal pond dam broke near Church Rock in July of 1979.
By Submitted by Jane Moorman, NMSU
January 9, 2007