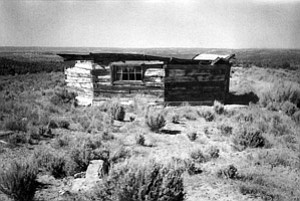 The devastation—an abandoned hogan on Big Mountain with the Black Mesa Coal mine in the distance (Photo and text by Serle L. Chapman, originally published in his 2001 work, We the People, Of Earth and Elders, Volume II).
Stories this photo appears in:

PHOENIX-Salt River Project, a 20 percent owner of the Mohave Generating Station (MGS) in Laughlin, Nev., is ending efforts to return the plant to service. After efforts failed to reach a purchase agreement with Southern California Edison (SCE), the majority owner and operator of MGS, SRP concluded that it will be unable to bring the facility back into service with the appropriate environmental emission controls in sufficient time to make it economically feasible.