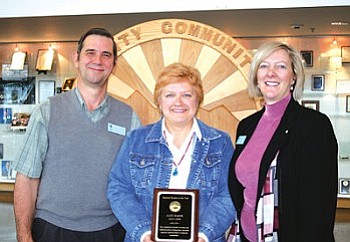 CCC Business, Education and Development Department Chair Paul Holbrook and President Leah Bornstein thank Alice Baker (middle) for making her journey for education.
Stories this photo appears in:
Ed Knecht receives 'Teacher of the Year' honors; Alice Baker honored as 'Associate Teacher of the Year'
FLAGSTAFF - With six national wrestling championship titles, Coconino Community College's accounting teacher Ed Knecht has proven he's a champion off the mats as well. Knecht has been selected by students and faculty members as CCC's 2007 Teacher of the Year.