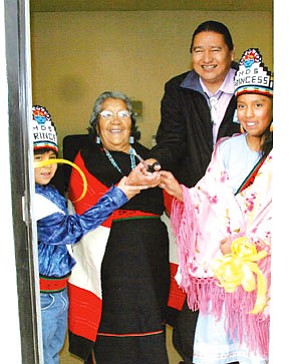 Alan Numkena, Lt. Governor from the Upper Village of Moenkopi (second from right), student royalty from Moencopi Day School and Laura Honahni (Fire Clan/Upper Moenkopi) cut the celebratory ribbon for the new Moenkopi wastewater treatment plant (Photo by Byron Poocha).
Stories this photo appears in:

Self-sustaining infrastructure will be the secret success ingredient
MOENKOPI-The celebratory mood during the grand opening of the Moenkopi Developers Corporation's (MDC) new wastewater treatment plant on Nov. 27 was blessed with a gentle early morning rain shower. It provided both a picturesque and spiritual backdrop to the Kerley Valley amid the large crowd that had come to christen the newest project for Upper Moenkopi.The MDC is keenly aware of three critical elements of long-range economic vision: constitution, self-governance and self-sustainability.